HDMI CONTRACTOR SERIES
The Contractor Series HDMI cables from Pro2 support the new HDMI HIGH SPEED and HIGH SPEED WITH THERNET specifications.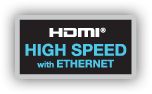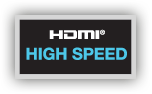 The main feature set for our Contractor Series leads are:
Reliability & Durability
Easy, no-fuss packaging
Availability
Our Pro2 Contractor Series cables are certified.
Flat Design
Our flat leads provide a stylish—but more importantly—functional, low-profile design. Flat leadsare more discreet and manageable than standard cylindrical cables and they also make the cable much more suitable for running down a wall from a wall-mounted flatscreen TV.
With gold plated plugs, oxygen free copper conductors the Contractor Series can deliver full HD 1080p video and HD audio with minimal loss or interference.
The latest revision for HDMI doubles the bandwidth of the original and has opened the door for a host of potential new advancements in Home Theater Audio/Video performance. New features such as 3D support, Deep Color, higher colour gamut, and 2k x 4k high resolution, multi-channel audio formats like Dolby True HD and DTS-HD Master Audio will better meet higher bandwidth demands than ever before.
Pro2 HDMI leads have been designed to cater for existing technologies and aim to be compatible with future upgrades.
Specifications
1080p Full HD support
19 pin HDMI A male 19 pin connectors
PVC jacket
100% OFC triple shielded
Downloads

Pro.2 HDMI Leads Sell Sheet
Print Page
Share This
Find a Dealer