RFMX3IR 3 INPUT RF MODULATOR

With Analogue TV broadcasts shutting off very soon, upgrade your existing TV and AV distribution system without buying new TVs or having to install multiple Digital STBs. Simply install and configure one digital receiver, and distribute it to your existing analogue TVs.
With room for two more AV sources, you can connect a DVD player and Digital Media Player—perfect for home installations—or a further two digital receivers for commercial installations where each STB can provide one digital channel for each modulated analogue channel.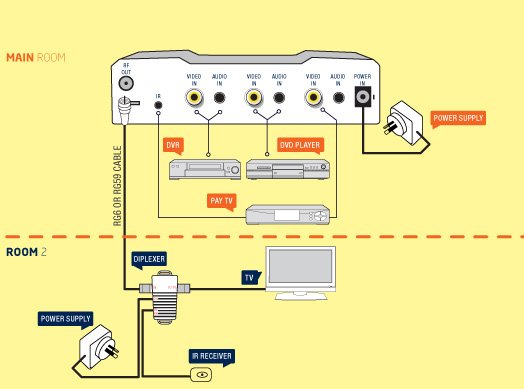 With the correct know-how it is also possible to connect multiple TVs and even multiple modulators via DC+IR passing Splitters/Combiners. You can even inject the modulator output into your existing antenna feed if you use the correct combination of splitters/combiners and DC/IR blockers. Please seek advice if you are intending to use the RFMX3IR in this way.
Features
Convert and transport 3x Analogue AV sources over RF
IR Return allows you to control your source devices from the viewing rooms
Each source transmitted on individually configurable UHF Channels
Specifications
TV system: PAL G/I/K and NTSC
Frequency range: 470~862MHz, NTSC: 470~885MHz
Max. Output level: 85dBuV
RF output channel: CH21-CH69
Video Input Port: RCA Jack
Audio Input Port: 3.5mm Stereo Jack
RF Out Port: F-(f)
Remote Control Frequency: 10.7MHz
IR Carrier Frequency: 32~38KHz
Power Supply: 7.5V DC 300mA
Small and compact aluminium housing design
High stability PLL technology
Remote control the A/V source with IR extender
Convert audio/Video signal into TV signal
Downloads

Sell Sheet
Print Page
Share This
Find a Dealer