WHDMI2 WIRELESS HDMI AV SENDER KIT
Discontinued
Keep your messy and sometimes noisy HD video sources in another room or hidden away in a cabinet on the other side of your entertainment room, wirelessly connecting them in their Full HD glory to your TV or Projector.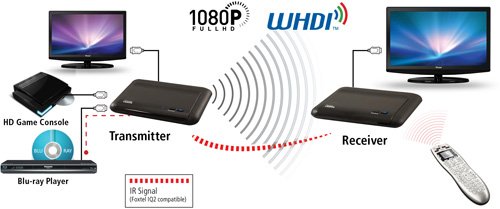 Easy plug-and-play system that requires no setup – no ugly cables – no loss of video or sound quality – and so simple anyone can set it up.

The WHDMI2 Wireless HDMI AV Sender Kit consists of a wireless transmitter and receiver that work together to transmit HDMI video at distances of up to 20m. The kit supports 1080p resolution with less than 1ms latency for smooth video playback.
The compact transmitter is a great choice for sending HDMI sources to any one location without the hassle of wires. The device is completely plug-and-play, so there are no drivers or software to install.

The WHDMI2 Wireless HDMI AV Sender Kit also enables remote control IR signals to return to the Transmitter sources, allowing full control of remote sources using their original remotes.

Click here to find out more about WHDI™
WHDI™ (Wireless Home Digital Interface) revolutionizes the home multimedia experience by wirelessly delivering interactive HD video.
The technology enables wireless delivery of uncompressed HDTV throughout the home with video rates of up to 1080p in the 5Ghz unlicensed band. It surpasses competitive technologies by providing outstanding and consistent picture quality equivalent to wired HDMI cable, low latency, multi-room availability and low power consumption.
The WHDMI2 Wireless HDMI AV Sender Kit uses WHDI™ technology so you can rest assured performance conforms to the new industry standard!
Wirelessly send and switch between two HDMI sources using new WHDI™ technology
Full HD 1080p uncompressed HDMI transmission*
Send up to 20metres, through walls and floors
IR Remote control extender built-in
Very low latency – less than 1ms – ideal for no lip sync issues and responsive console/video gaming.
Supports HDMI CEC and HDCP
HDMI output at transmitter for HDMI Switcher functionality and local viewing of video.
* Does not support 3D video formats
Supported resolutions: 1080P, 1080i, 720p, 576p, 480p
Up to 6Mbps AC-3 and DTS audio transmission
System Latency: Less than 1ms
Supported IR blasting frequency: 36KHz/38KHz
Power Supply: 100~240V AC in, 5V DC out power adapter
Operating temperature: 0 ~ 40C
2x 5V power supplies
1x 1m HDMI Cable
Quick Start Guide
User Manual
IR sensor extender cable
IR blaster extender cable
Remote control unit with batteries
Downloads

WHDMI2 Sell Sheet (700kb)

WHDMI2 Install Guide (3mb)

WHDMI2 manual (908kb)
Print Page
Share This
Find a Dealer