VWC22 – 2X2 VIDEO WALL CONTROLLER
Full HD Video Wall Controller with Mixed Inputs
FEATURES
Support USB/VGA/Composite/HDMI input.
Select 1 of 4 source and distribute to 4 displays.
Create a 2×2 Video Wall Controller from any source to four displays.
Support multi-level cascading to c reate 3×3, 4×4…Video Wall (Max 10 x10). d
Support 180° rotation.
Support resolution up to 1080p Full HD.
Support Panel control, IR control, RS232 control.
SPECIFICATIONS
Operating Temperature Range

0 to +35°C (32 to +95°F)

Operating Humidity Range

5 to 90 % RH (no condensation)

Input Video Signal

0.5-1.0 volts p-p

Input DDC Signal

5 volts p-p (TTL)

Video Format Supported

DTV/HDTV: 1080P/1080i/720P/
576P/480P/576i/480i

Audio Format Supported

LPCM

Input ports

1xHDMI, 1xUSB, 1xVGA, 1xAV

Output ports

4xHDMI

Splitter mode

1×4 HDMI Splitter

Video wall mode

2×2,3×3,4×4……10×10 video wall

Control Way

Panel control, IR control, RS232 control

Power consumption

15watts(Maximun)

Dimension (mm)

L380.6XW136.6XH43.5 mm

Weight

1725g
Application 1: Split a single source to 4 displays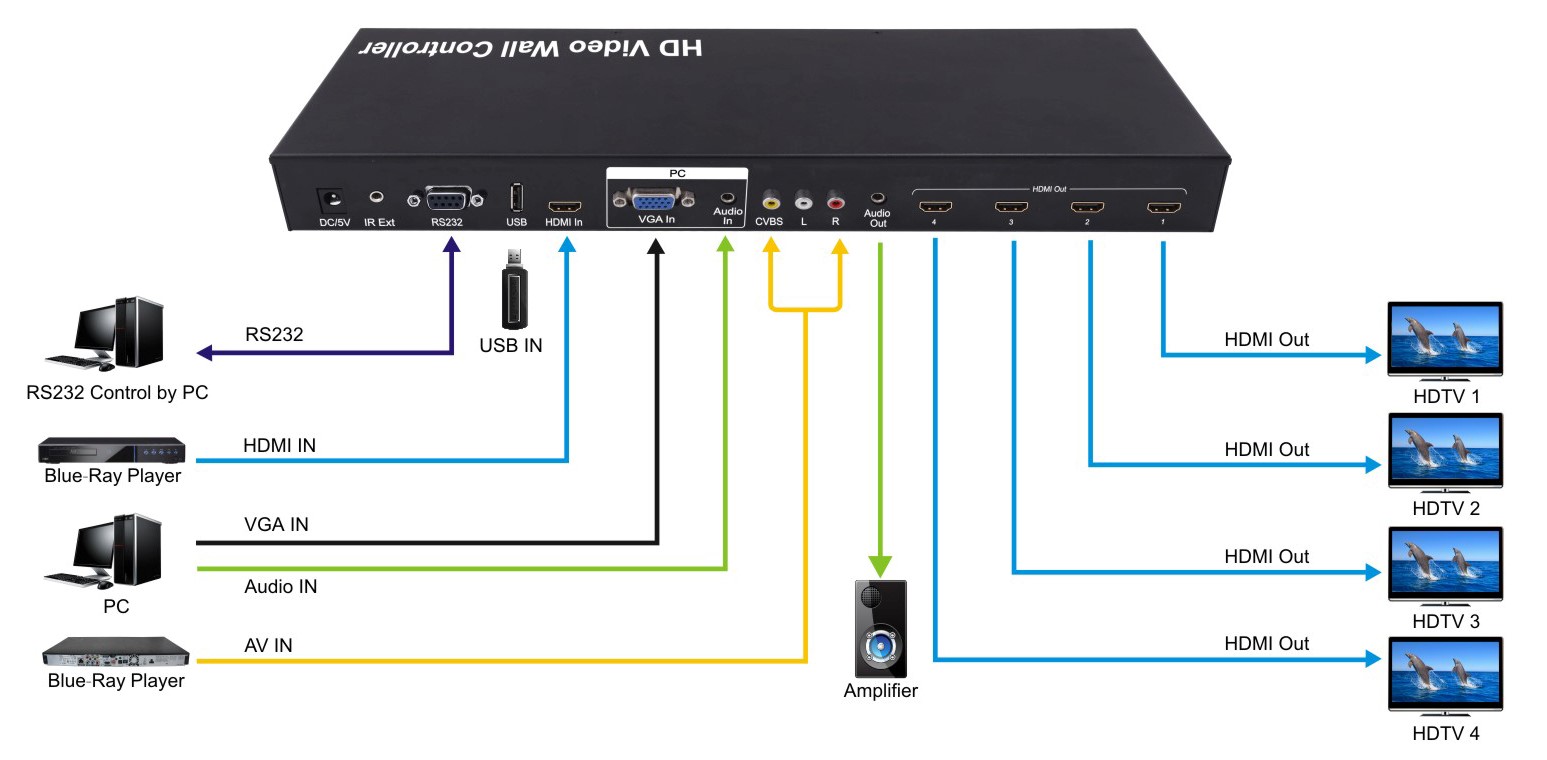 Application 2: 2×2 Video Wall Displaying

Application 3: Multi-Level Cascading (Max 10×10 Video Wall)