HE02 – H.265/H.264 HD HDMI ENCODER FOR IP TV
HE01 H.265/H.264 HD HDMI encoder is the ideal tool to convert your HDMI resource into IP sharing resource. Ideal for Multimedia display walls, Video conferences, IP TV projects etc.
Supports H.265/H.264 encoding
Supports UDP, HTTP, RTSP,RTMP, Onvif protocol
Supports MPEG1 audio layer 2
CBR/VBR rate: 16kbps-16Mbps
1000M network interface uses full duplex mode
Supports upto 720p, 1080p@60Hz HD video input
Supports image parameter settings
WEB interface management authority
Supports remote management in WAN(WEB)
Supports resolution customized settings
Supports one key to restore factory configuration
Wiring Diagram: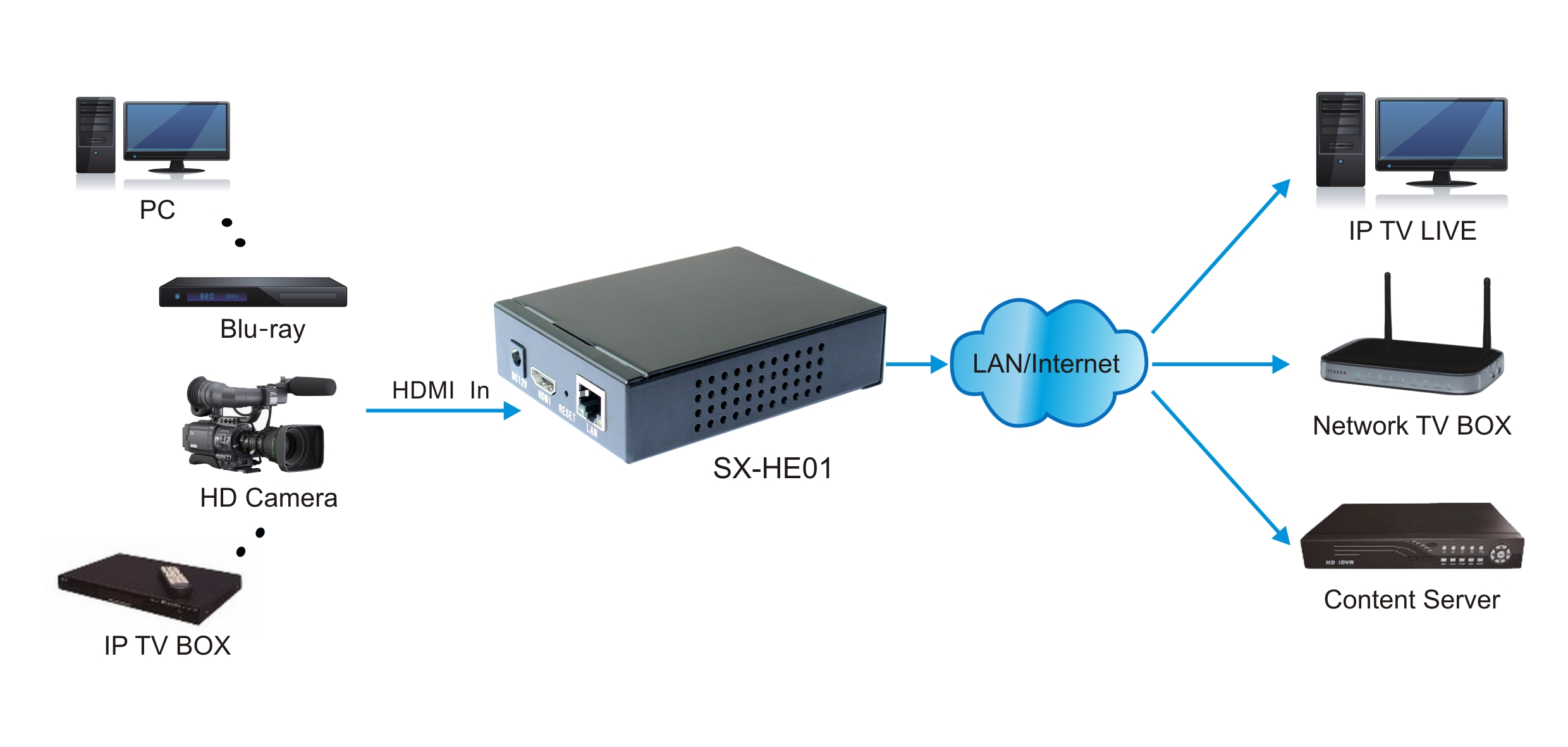 Q1: I have changed the IP address of the encoder, but I forget what it is after the change.
A: HE01 default IP address is 192.168.1.168, and DHCP off, if you have already changed the IP address or enabled the DHCP, you can find it via ONVIF device manager, look for the devide name Xencoder. You can download the software from here: https://sourceforge.net/projects/onvifdm/
Q2: How to update the firmware?
A: Login to the HE01, Go to System/Upgrade, select the RAR file, no need to extract, click upload.
Q3: Does the HE01 support RTMPS protocol?
A: The latest firmware V2.88 supports RTMPS, if your unit firmware is older than this, you can download the firmware from Download section and upgrade your unit. All our current stocks are up to date since June 2019.
Q4: How to enable RTMPS in Version 2.88?
A: Go to Encoder, under main stream, enable RTMP/RTSP PUSH URL, and put the RTMPS URL in, reboot the unit.