HDMIAW HDMI EXTENDER OVER ANY WIRE UP TO 3.8KM
Warning: This product is NOT 'HDMI over AC'!
Please ensure you do not establish a direct connection between the transmitter and the receiver using an active AC power outlet. Doing so will damage your unit and will be dangerous!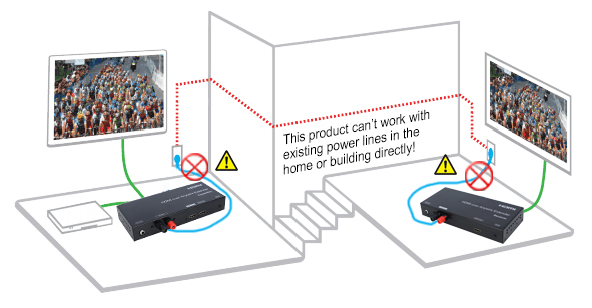 HDMIAW can extend your HDMI source over any 2-conductor cable including twisted cable, telephone cable or CAT5/6 etc. The transmitter compresses/converts the HDMI signals into a serial data stream, which is then encoded for transmission over any copper media. It is an ideal HDMI extender over your existing cable.

Features
With 1x Loop HDMI output at transmitter
Transmit HDMI signal up to 3.8 Km
Supports Multi-level cascading
HDMI resolution up to 1080p
HDCP compliant
IR pass-through control
Power supply DC 12V
Note: This product can not be connected to 220V/380V high voltage.
Wiring Configurations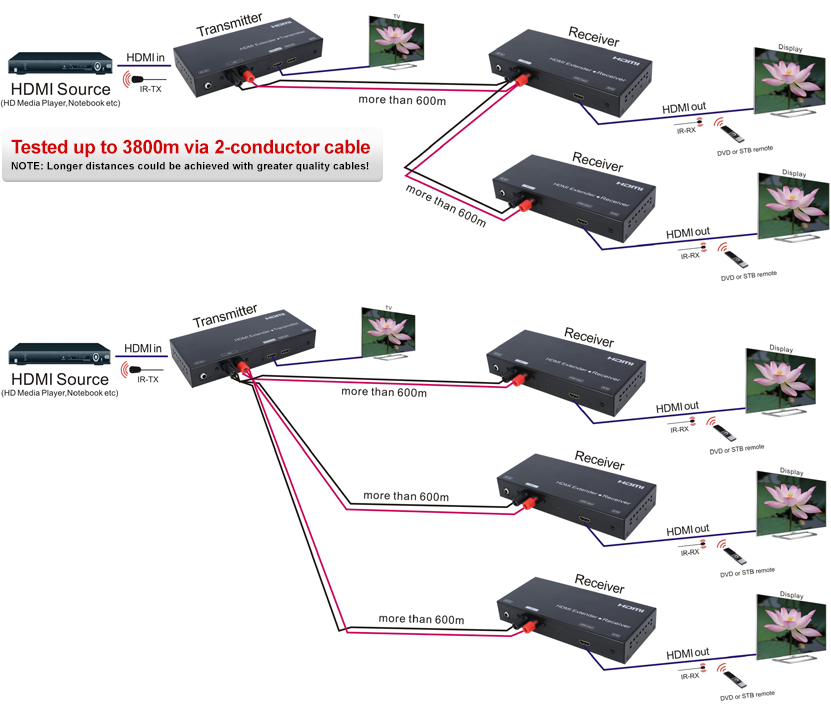 Operating Temperature Range
-5 to 35°C
Operating Humidity Range
5 to 90%RH (No condensation)
Compression Rate
H.264 compression
Bit Rate
15Mbps
Latency
From TX to RX is about 200ms to 450ms
Supported Audio Format
LPCM audio format
Transmission Distance
3800m via 2-conductor cable; NOTE: This distance is tested on 18AWG UL2468, stranded 2 core cable. Longer distances could be achieved with greater quality cables
Supported Video Format
DTV/HDTV: 480i/ 480p/ 576i/ 576p/ 720p/ 1080i/ 1080p
VESA: 800×600, 1024×768, 1280×768, 1280×960, 1280×1024
1680×1050, 1920×1080, 1280×720, 1360×768, 1400×1050, 1280×1024
Connections on TX
1x HDMI input, 1x HDMI loop out, IR-TX socket, 2x terminal post, power supply socket
Connections on RX
2x terminal post, 1x HDMI output, IR-RX socket, power supply socket
Power Consumption
TX:6.5 Watts, RX:5.5 Watts
Dimension
206.2(L) x 110(W) x 33(H)mm
IR Frequency
38K-56KHz
Net Weight
TX:545g, RX:548g