LC6648R 20M CAT6 RED PATCH LEAD
PRO2 CAT6 UTP PATCH LEADS
Category 6 cable, commonly referred to as CAT6, is a cable standard for Gigabit Ethernet and other network protocols that are backward compatible with the Category 5/5e and Category 3 cable standards. Compared with CAT5 and CAT5e, CAT6 features more stringent specifications for crosstalk and system noise. The cable standard provides performance of up to 250MHz and is suitable for 10BASE-T, 100BASE-TX (Fast Ethernet), 1000BASE-T / 1000BASE-TX (Gigabit Ethernet) and 10GBASE-T (10-Gigabit Ethernet).
To maintain transmission characteristics and network integrity, it's essential to use the correct type of patch-cord to match the installation. A network port will perform only at the level of the LOWEST-rated component in the chain.
If a CAT5 or CAT5e patch-cord is used in a CAT6 system, only CAT5 or CAT5e specifications will be achieved for that circuit. Furthermore, many manufacturers have cables that do not meet the strict requirements set out in the CAT6 certification. Pro2 cables are batch tested to maintain the high quality required to meet CAT6 certification across all lengths available.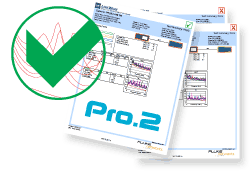 Pro2 CAT6 cables pass the Fluke Linkware Cable Test Management performance tests
Meanwhile, equivalent CAT6 cables from leading competitors in the market do not pass the same performance test. View the relevant PDF files down below
:
FEATURES:
UTP CAT6 Patch Lead – Each cord has eight multi-strand conductors in 4 twisted-pair T568A color coded configuration.
Quality cable material – Fitted with 50µª Category-6 compliant 2-row (staggered pins) plug and fully-molded strain-relief boot.
Molded strain relief & Low profile flush moulded boots – With molded strain relief RJ45 male-to-male connectors this cable will be strong, and robust.
Packaged in heat-sealed hang-sell bags.
Complies with the applicable electrical transmission
characteristics specified in: ISO/IEC 11801 Category 6
Complies with the applicable electrical transmission
characteristics specified in: TIA/EIA-568-B.2-1 Category 6
Category 6 Cable Standard:
Category 6 is a standard that aims to support transmission at frequencies up to 250 MHz over 100 ohm twisted pair.
Supports current Category 6 applications such as 100BaseTX,100BaseVG, ATM, Gigabit Ethernet and all fast Ethernet protocols.
How to distinguish a Cat 6 plug from a CAT5 or CAT5e plug:
To distinguish a CAT6 plug from a CAT5 or a CAT5e plug, just simply look at the way the cable's wires have been terminated at the end of the plug:
A CAT5 or a CAT5e plug will ALWAYS have all eight wires in a single row
The majority of CAT6 plugs will have wires in two rows with four wires per row
Some Cat-6 plugs will have wires in two rows with 6 wires in the top row and 2 wires in the bottom row
UTP CAT6 straight through and crossover leads and available in the following lenghts:
0.5m
1m
2m
3m
5m
10m
15m (crossover lead not available in 15m length)
Available in the following colours:
UTP CAT6:

Blue
Red
Green
Yellow
White

UTP Crossover CAT6: