HDC6L HDMI OVER SINGLE CAT6 EXTENDER LOOPING HDMI OUT/EDID/3D
Solid/FTP CAT5/6 cable required for best results
If you are running a cable 15 metres or more, make sure you use a SOLID CAT5/6 cable. This product may not work with standard stranded ethernet cable. See related items for cabling that will work this product. 60m distance has been tested fine on F/UTP solid cat6 cable.
FYI: Most of the pre-made cat5/6 leads on the market are stranded cable not solid.
An upgraded version of our HDC6EDID. Now with local HDMI loop out on transmitter device enables local viewing function. Which means you can view the video source locally as well as on the extended end.
A neat and simple high definition HDMI extender kit. This kit extends your high definition AV sources from Blu-ray DVD Players, PS3 and XBOX etc. up to a maximum 50m via single solid CAT5E/ 6 cables through the wall cavities. The new EDID feature increases its compatiblilty with players or displays. It supports full 1080P high definition and integrates an infra-red control extender for full controllability from the receiving end. RJ45 connections on the rear of both units make it for easy connection.

Features
Transmits HDMI Audio/Video Signals and IR over a 50m single solid Cat5e/6 Cable.
Transmits a wide-band Bi-Directional IR control signal together with the HDMI signal.
Supports 24bit Deep Colour.
Full cascade to create larger distributions.
Automatically adjusts feedback, equalization and amplification
Supports PCM ,Dolby Digital, and DTS Digital Surround
Follows IEEE-568B cable termination standards and solid cables are prefered.
HDCP compliant
Supports 3D video format
HDMI out port on transmitter
Got the right cable?
Please note: IEEE-568B standard solid cables are recommended for this kit.
Wiring Diagram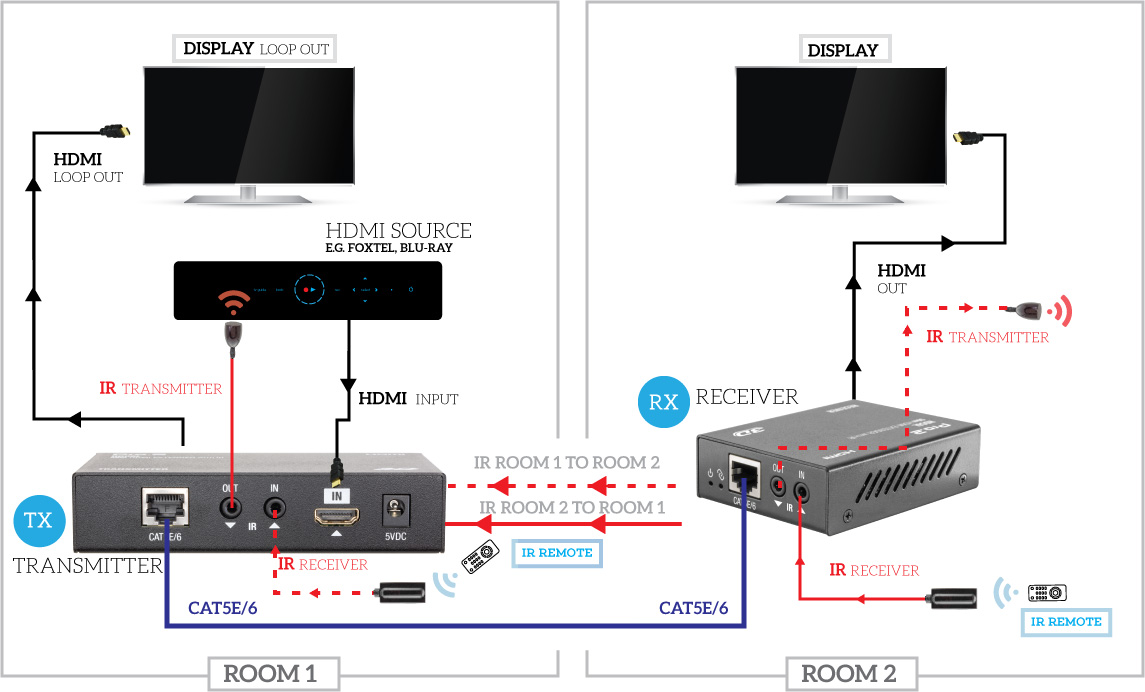 What are included in the package?
1xHDMI Transmitter
1xHDMI Receiver
2 x IR TX Emitter
2 x IR RX Receiver
2 x 5V/1A DC Adapter (Australian approval)
User Manual
Specifications
Transmission Distance
1080p up to 50m*
Operating Temperature Range
−5° to +35°C
Operating Humidity Range
5 to 90% RH (No Condensation)
Data transfer speed
6.75Gbps
Connectors
HDMI Receptacle x 2
RJ45 Receptacle x 2
Power DC Receptacle x 2
3.5mm stereo Receptacle x 2(for IR TX and RX cable)
Resolution outputs
1080p/1080i/720p/576p/480p/576i/480i
Video colour bit supported
24bit
Audio format supported
DTS-HD Master Audio, Dolby True HD, multi-channel 5.1, stereo etc
Output Video Signal
HDMI + HDCP
Dimensions
65(H) x 24.1(W) x 85(D)mm
Power supply
5V DC Power supply (Included)
Power consumption
1.5W(MAX) (TX:0.5W,RX:0.3W)
Net Weight
319g
IR wavelength & frequency
Wavelength: 940nm IR Frequency: 38KHz – 56KHz
*Note: 50m distance is under perfect transmission conditions including straight cable runs with no electrical interference, bends, kinks, patch panels or wall outlets.
Does this unit work with the new Foxtel iQ3?

Yes. Just make sure your IR emitter is placed in the correct location. See the image below.

Also note that the new Foxtel IQ boxes only come with a Bluetooth remote. You will need to acquire a Foxtel compatible IR remote.
What happen if the product is not working?
Please check your cable. Make sure IEEE-568B type solid cable is being used.