HDMI16SPEDID 16-WAY HDMI SPLITTER WITH EDID
Discontinued
This is the latest 1×16 HDMI splitter with Audio extraction, supports 3D & 4K/UHD. It offers a good HD video solution for places such as super markets, shopping malls, HDTV/STB/DVD and projector factory, data control center, conference rooms, education and training, luxury homes & home theatres etc.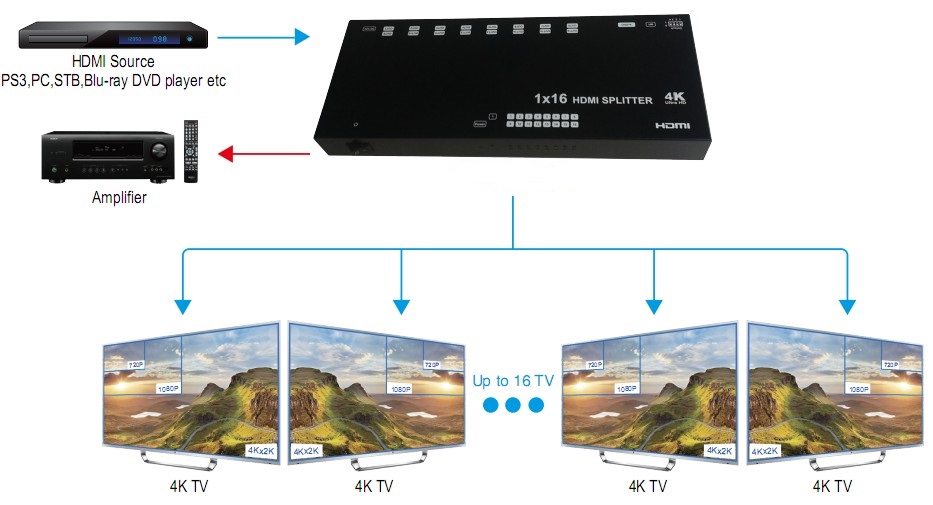 1x HDMI input, 16x HDMI outputs
Resolutions up to 4Kx2K
Advanced EDID management for rapid integration of sources and displays
With Audio extraction via optical cable
Supports 3D formats
Supports LPCM 7.1, Dolby TrueHD, Dolby Digital plus DTS-HD Master Audio
Supports 36-bit Deep Colour display
Bandwidth: 9Gbps (Maximum)
DC 12V 2A Power supply (inluded)
Operating Temperature Range
-5 to +35°C
Operating Humidity Range
5 to 90%RH (No Condensation)
Input Video Signal
1 HDMI Input
Input DDC Signal
12 volts p-p (TTL)
Bandwidth
9Gbps (Maximum)
Video Format Supported
DTV/HDTV: 480i / 576i / 480P / 576P / 720P / 1080i / 1080P / 4Kx2K
3D video support
Video Output
16 HDMI outputs/Audio output via optical
Support Video Colour Format
Deep Colour 36-bit
Support Audio Format
LPCM 7.1 Dolby Digital, Dolby Digital plus, Dolby TrueHD, DTS-HD Master Audio
Power consumption
16watts (Maximum)
Dimension (LxWxH)
350x147x40mm
Net Weight
1450g
Note: Specifications are subject to change without notice. Mass and dimensions are
approximate.
Downloads

User Manuals
Print Page
Share This
Find a Dealer