WMR14 AIRPLAY & DLNA/UPNP WI-FI MUSIC RECEIVER
Discontinued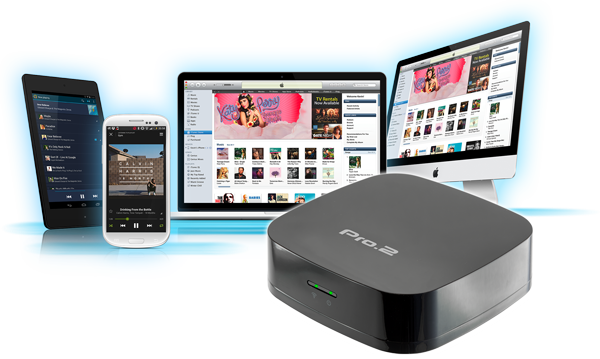 Gone are the days of Bluetooth audio sucking the battery life out of your phone's battery, and constantly having to connect to different devices when wanting to play music to another receiver. The Pro.2 WMR14 AirPlay and DLNA Music Receiver brings you the flexibility of Apple AirPlay and industry standard DLNA. The WMR14 connects to your existing Wi-Fi home or office network or can create its own hot-spot, allowing up to 10 devices to connect to it at a time for ultimate control! No matter the device—PC, iPhone, Tablet, etc—there is a way of streaming music to the WMR14! Stream music from iTunes to multiple rooms at once*, or use your Android device to stream music from your NAS to your home stereo using DLNA/UPnP.
The WMR14 allows devices to connect directly to it, making it extremely versatile where no Wi-Fi network is present. It is even capable of extending the range of your Wi-Fi network so you can continue streaming internet music from the bottom of your garden!
Features
Supports Wi-Fi 802.11b/g/n
Apple AirPlay support for iOS devices, AppleTV and PCs running iTunes (OSX and Windows)
DLNA/UPnP support for Windows Media Player and Android Apps
Supports streaming from Qplay iPad App
Digital and analogue outputs:

Optical TOSLINK jack
3.5mm stereo analogue jack

Two working modes:

Direct connection—works without existing Wi-Fi network
Client mode—connects to existing Wi-Fi network; does not require disconnect/reconnect of devices when streaming to different receivers
Supports multiple units on the same network—create a complete wireless multi-room setup!*
* Please note: AirPlay and DLNA/UPnP protocols do not support audio synchronisation—any audio delays between multiple units or lip-sync issues (for example while watching videos) are not a result of the WMR14 but a combination of Wi-Fi latency and buffering built into the protocols themselves.
Client Mode
In client mode, the WMR14 connects to your home network just like any other Wi-Fi device. You can stream to it from any device on your network, while still accessing the rest of your network as per usual. It also enables you to stream from any wired devices connected to the same network. Simply follow 3 simple steps to connect the WMR14 to your home network!
Direct/Bridge Mode
Direct/bridge mode allows you to use your WMR14 without an existing Wi-Fi network. If you have an existing Wi-Fi network, the WMR14 allows you to extend the range of your Wi-Fi! It acts as a bridge between your device and home network, giving you access to your home internet connection if you happen to be out of range.
Initial set-up for iOS devices
Initial set-up for Android devices
Demonstration of Basic playback with Android devices
Specifications
Supported formats:

MP3 (32~320kbps)
WMA (32~192kbps)
WAV
APE (<820kbps)*
FLAC (<860kbps)*
AC3 (128kbps, 2.0ch)*
AAC/M4A (32~365kbps)
MP2 (32~320kbps)

Power Supply: 5V DC required (0.5A min)
Dimensions: 85 x 85 x 24.7mm
Weight: 40g
Working temperature: 0 ~ 50°C
Storage temperature: –10 ~ 70°C
Wi-Fi Protocol: IEEE 802.11b/g/n
Maximum clients (recommended): 10
*not all bitrates and formats are supported

READ ME:

How do I change the security (hot-spot password and SSID) on my WMR14?

By default, the first shipment of WMR14 does not have a password for its Wi-Fi hotspot used for initial setup. Up-coming shipments will have a default password of: 12345678

As the WMR14 creates a hot-spot that provides access to your home network and internet connection, it is highly recommended to change/set the WMR14's hot-spot password just as you would your home router. Changing the SSID of the hot-spot also helps improve security.

Changing the WMR14 hot-spot security settings
Connect to the WMR14 hot-spot. Use the instructions in the manual if you need help.
Open your device's web-browser, and browse to: http://wmr14/
Click "Basic Settings"
To change the SSID, edit the "Device Name" field.

You may want to change the SSID if you have multiple units or so other users in the area do not know what devices you have running in your home.

For the strongest security protocol, select "WPA2" from the "Security" list.

WPA is much stronger than WEP which is easily hacked. WPA2 is stronger again but may not be supported by all devices you may own. If one of your devices is having trouble connecting to the WMR14 hot-spot, then try changing this setting to "WPA/WPA2" or "WPA"
If you do not plan on using the WMR14's hotspot for everyday use you should use WPA2.

Finally, enter and confirm a strong password. This is at least 8 characters long and contains letters and numbers.
Recommended Apps for Android
Here is a list of recommended apps that have been proven to work well with the WMR14
airmusic – Free

This is the app specifically designed for the WMR14.

BubbleUPNP

Free version (limits playlists to 16 tracks, ad supported and some other limitations).
License to unlock full version (Paid)
BubbleUPNP allows you to stream
to and from a variety DLNA enabled devices. Use your phone to stream music from your PC to the WMR14 or stream directly from your phone.

AirAudio – Paid

AirAudio aims to clone Apple's AirPlay functionality. It will stream audio from any app running on your phone.
You don't necessarily have to use third party apps, most modern smartphones come with built-in media players that are capable of streaming via DLNA.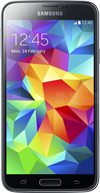 How to stream music from a Samsung Galaxy S4/S5 to the Pro2 WMR14
Run the "Samsung Link" app
Locate your media and start playing
Click the stream icon on the top left
Choose WMR14 from the list
Enjoy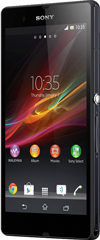 How to stream music from a Sony Xperia Z to the Pro2 WMR14
Launch the "Walkman" app
Tap the 'Throw' icon to choose your renderer
If the Throw icon doesn't exist, tap the menu icon and choose 'Throw' from the list
Choose WMR14 from the available options
Once paired, the WMR14 will always appear under the paired devices section for quick future access
Enjoy wireless audio! The 'Throw' icon will remain blue as long as there is an active connection
Can I stream from my HTC One Music Player?
Unfortunately, the built-in player for HTC One (Sense 6.0) is very picky with DLNA renderers.
Please select one of the selected apps above
I have multiple WMR14s—how do I rename them so I can tell them apart?
Connect to the WMR14 hot-spot. Use the instructions in the manual if you need help.
Open your device's web-browser, and browse to: http://wmr14/
Click "Music Settings"
You can enter any name you like, such as: "WMR14-Bedroom"

Please note: you can't use spaces and some characters.

Click "Done" and the WMR14 will restart and the new name will be visible in your AirPlay or DLNA server list.
I can't connect the WMR14 to my existing Wi-Fi network.
Unfortunately, due to the wide range of Wi-Fi routers, we cannot provide support for networking issues. However we have a few suggestions for troubleshooting your router settings:
The WMR14 supports WPA-PSK and WPA2-PSK & AES encryption types. If your router is using a different type of WPA authentication, the WMR14 will not be able to connect
Only standard Wi-Fi channels 1 to 13 are supported by the WMR14
Your router my have access controls turned on such as MAC filtering, or preventing new clients from joining the network.
Have you tried power cycling both your router and WMR14? There may be unexpected, unsaved settings that will be cleared with a reset. Tip: Make sure you have saved any settings on your router that you have intentionally set.
Please refer to your router's manual or manufacturer for specific information on checking and configuring these settings.
Downloads

Sell sheet

WMR14 User Manual
Print Page
Share This
Find a Dealer